Other Activities - Ukulele Club
The Ukulele club first met for a trial run in April 2016 and started proper in May 2016 when a handful of people took up an invitation to learn how to play the Ukulele in a friendly relaxed manner with easy to follow tuition.
We now have thirty people registered and attend every Tuesday evening with a varied array of ability and some of which have learnt to be very proficient players and with music covering a wide range including
Neil Diamond, Buddy Holly, Cliff Richard, Elvis Presley, Fats Domino, Ricky Nelson, John Denver, Little Eva, Olivia Newton-John and many more. We all have a great evening singing and playing together ( apologies to the real oldies we don't do George Formby ) so if you fancy having a go do please come along as you would be very welcome and as there is always someone with a spare Ukulele on the night and there would be no initial investment to give it a try. If you don't like it you just walk away if you get hooked the overall investment is very small as you can buy a Ukulele very cheaply.

Any interested person please contact John Rumsey on 07548 543597 or you can call Patrick in the office on 01284 755468 ( mornings)
UKULELE SUNDAY FUN DAY
Ukulele Club - Summer 2018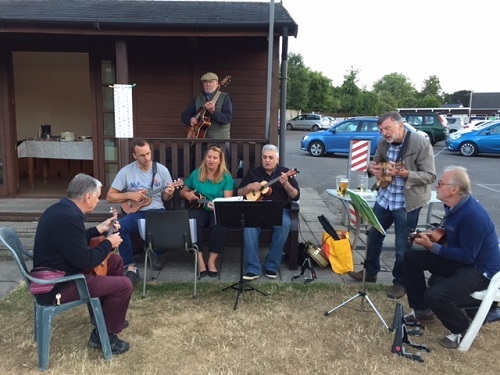 The Ukulele Club held their planned outdoor session on the Petanque court on Tuesday evening 10th July (just as the sun and heat decided to disappear) and whilst there was a few no shows due to the world cup football a great time was had by all culminating with lavish spread of savoury and sweet delights followed with a game of Petanque led out by John & Jade.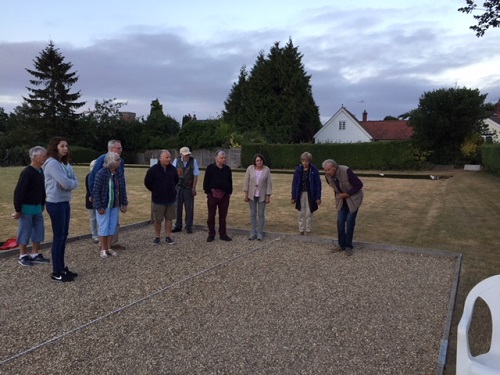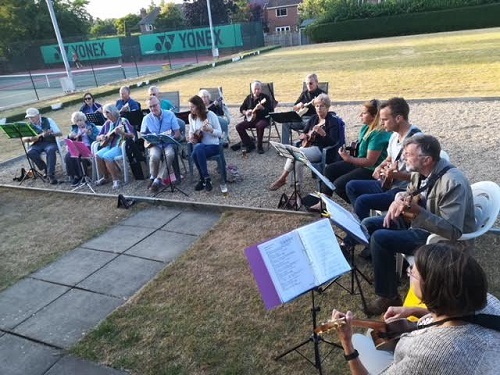 Ukulele Club celebrate second anniversary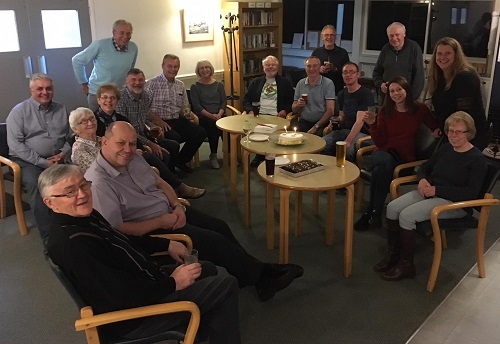 Members of the Ukulele club celebrating the their second anniversary on the evening of Tuesday 25th April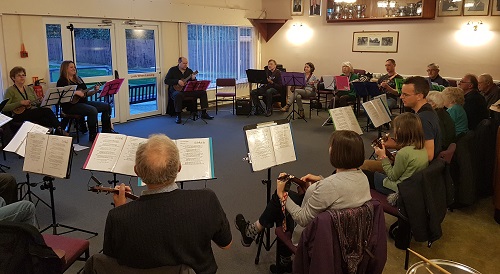 Ukulele club practice night
UKULELE BAND ENTERTAIN THE "WALK FOR LIFE" WALKERS
On Saturday night the 9th September sixteen members of the " St Ed's Ukulele Band " turned out to brave the weather and entertain the 2500 women walkers who entered the Walk For Life organised to raise funds for St Nicholas Hospice. Some of the songs were rather topical for the event and it was noticeable from the walker's reaction how they enjoyed a wide range of pop and rock including some classics such as
"These boots were made for walking" "Rave On" & "Rock around the Clock"
The St Eds Ukulele group was formed around eighteen months ago and meet every Tuesday evening at the Risbygate Sports Club in Westley Road Bury St Edmunds and anybody interested in coming alone for a free one off taster session are welcome. We will even supply you with a Ukulele for the evening and give you some basic tuition after which you can decide if you would like to join the group who boast a wide range of skill from novice to very good but when we are all playing you cannot tell the difference. Call John on 07548 543597 or Carol on 01284 830502

The Ukulele club go Hawaiian...
...when Lynnette who lives in Hawaii dropped in for a jamming session
Ukulele Club
The Ukulele Club having fun and learning to play and sing all the classics. uke could join too.